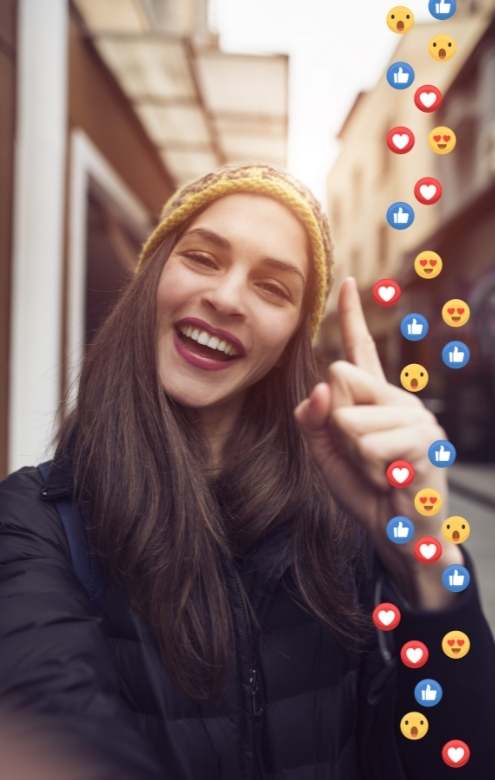 Social Media Marketing Services
Social media marketing is continually progressing, evolving, and adapting. It has developed into a significant online marketing resource for brands to promote their products and services. Moreover, social media platforms, such as, Twitter, Facebook, Instagram, Pinterest, and LinkedIn, can considerably improve, and add value to a brand's exposure.
Well, that's exactly where our expertise lies. You can be sure that our digital marketing strategies will enhance your brand's credibility and increase awareness, while our professionals focus on creating a strong social media presence for your brand.
Owing to years of experience as a social media marketing agency, we understand what works well for a business. For instance, one of our powerful social media management services includes Facebook marketing. Statistics depict that 74% of the platform's users check their accounts every day, and 66% of the users follow or like a brand, making Facebook marketing an effective social media strategy. Likewise, our team of experts ensure maximum utilization of the diverse range of tools provided by Facebook, that help define and target your audience.
Our social media marketing services primarily entails positioning your business across social engagements and conversations, taking place between prospective clients. Beginning with a detailed evaluation and analysis of your business' digital presence across social media platforms, we prepare advanced social media optimization strategies. This would result in your brand receiving maximum benefits, and here's how we do it:
Let's discuss your social media marketing requirements!
Conducting a thorough competitive analysis is an essential part of every social media strategy. When done efficiently, it can give you a relatively fair advantage, driving you ahead of your competitors. And yes, we do that very well. By identifying the perfect social media platforms that align with your brand's objective, we determine the target audience, and then, focus on increasing customer engagement. Our social media experts will ensure optimizing your social media profiles to attract more visitors, increase your engagements and followers, and increase website traffic and lead conversions.
Besides, we understand the importance of curating relevant and engaging content, which would effectively grab the attention of potential clients and customers. This would also help build brand awareness, and familiarize your target audience with the products or services you offer. Moreover, since we strongly believe in building customer relations, maintaining a healthy client-brand relationship is our top priority.
Our social media management agency possesses an in-depth aptitude regarding implementing the right social media strategy, customized according to your brand's requirements. Rest assured that Growth Engage's social media expertise would provide your business with great results, especially in terms of increased traffic and leads, improved SEO, as well as thriving customer relationships and brand loyalty.
Now that you know what, and how we do it, choosing our social media marketing services, would be one of the best decisions you make. So, reach out to us and let our dedicated and reliable team take the lead, on your behalf.